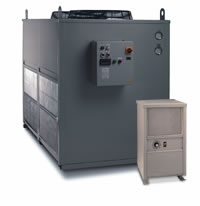 RECIRCULATE FLUID FROM A REMOTE TANK
Energy Saving, Space Saving and Quiet
Open loop industrial chillers control the temperature of a liquid in a remote open tank or sump by continuously recirculating it. The liquid is drawn from the tank, pumped through the chiller and back to the tank.
Turmoil open loop water chillers can use water for cooling instead of air. The condenser does not cool the hot refrigerant with ambient air, but instead uses water that is cooled by a cooling tower or city water. This  allows a reduction in energy requirements as well as a significant reduction in the size of the chiller because of the small surface area of the water-based condenser and the absence of fans. The absence of fans also allows for significantly reduced noise levels.
Turmoil refrigerated chillers use refrigeration as the media for cooling, while Turmoil non-refrigerated chillers rely on simpler techniques such as air or water flowing over coils containing the coolant to regulate temperature. 
Applications:
Coolant Sumps
Filtration Tanks
Hydraulic Tanks
EDM
Fish Tanks
Process Tanks
Quench Tanks
Headstocks
Gear Boxes