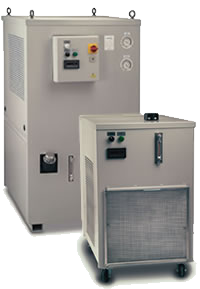 SELF-CONTAINED RECIRCULATING CHILLERS
Recirculate Fluid from an Internal Tank
Closed-Loop coolers recirculate coolant from a tank mounted in the cooler, through a sealed coolant loop and heat load (spindle) and back to the tank. The tank, pump, and evaporator are all in the cooler.
Coolant is added to the tank through a filler/breather port. The coolant level is always visible in the tank level gauge. When the pump is energized, it draws coolant from the tank and pumps it through the coolant loop. The coolant absorbs heat from the heat load and then dissipates it in the evaporator before returning to the tank. The temperature controller senses the temperature of the coolant leaving the tank and controls the refrigeration effect in the evaporator to provide coolant at the desired discharge temperature.
This model is also available in a Non-Refrigerated air or water cooled fluid cooler. Please see "NRCA" and "NRCW" coolers.
Applications:
High-Speed Spindles
Lasers
Power Supplies
Diffusion Pumps
Jacketed Vessels
Chill Rolls
Injection Molding
Linear Motors
Medical Equipment
Welding
Vacuum Systems
Heat Exchangers